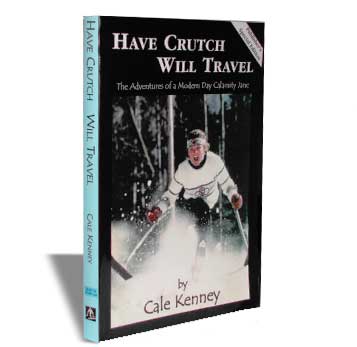 Listen to the Colorado Public Radio interview
with Cale Kenney for "Colorado Matters" by clicking on:
You will need Windows Media Player in order to play this file. Visit http://www.microsoft.com/windows/windowsmedia to download a free version of this software.
---
Have Crutch Will Travel is now available for purchase at the Tattered Cover Book Store,
Cherry Creek, in Denver, Colorado.
---
"The writing is brilliant! A champion skier, Kenney finesses storytelling with humor and grace. A must-read for those in the rehabilitation process, both people with disabilities and therapeutic professionals."
Hal O'Leary, Founder and Director National Sports Center for Disabled at Winter Park.
When you know Cale, it's easy to forget she survived one of the most radical female amputations performed. Nevertheless, she crafted a life of thrills and adventure beyond what most "intact" people would dare dream. This entertaining memoir is a picaresque tale of her travels, her conquest of the ski slopes, her medical challenges, and her determination to outfox pain. It's witty and wise, and one of the most inspiring stories you'll ever read."
Virginia Cornell, author of Doc Susie: The True Story of a Country Physician in the Colorado Rockies
Your book works so well, because you're able to take the reader from despair to hope--a soupcon of what she experienced, but very real & powerful.The first part of course devastating--just heartbreaking. (And those pictures of you from the hospital bed--you were just a little baby!) But just when you're not sure you can read on, the Adventures begin and one begins to understand that there's hope--there is life after death.
Loved C'est La Vie and story about your Dad.
Remarkable and memorable.
Nick Downes
New Yorker Cartoonist

Have Crutch Will Travel is currently being used in "Disabilities Studies" at Suffolk University, Sawyer Graduate School of Public Management, taught by Professor Stephen M. Spinetto.
---
Have Crutch Will Travel was one of
Independent Publisher Online's Highlighted
Titles for September 2004
---